Back To Blog
It is well-known that a garage door represents the largest movable part of any house. In that event, it plays a key role in our security. However, as nothing lasts forever, at a certain time this heavy piece of wood, fiberglass or steel will stop working properly. In order to avoid being taken by surprise, you must find out more information about those technical malfunctions that can occur after a certain period of time.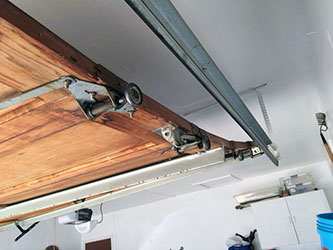 1. Unusual sound
One of the signs which show that your garage door is not in good working conditions is represented by an unusual sound. As a result, a disturbing squeaking sound is not common in garage doors field. When such noise occurs, you may have to deal with poorly lubricated garage door parts such as rollers or bearings. Furthermore, faulty bearings will prevent your door from opening or closing all the way. When this happens, all you have to do it get in touch with your garage door service provider. A professional is able to handle successfully every technical problem.
2. Faulty mechanical system
If you notice that your garage door moves slowly, this problem may be caused either by its motor or gears. To go further, a snapped cable will produce a scraping sound and it can also contribute to an uneven opening or closing of the door. Moreover, a garage door broken spring can lead to a severe series of accidents. As a result, if you have to deal with a faulty door, experts at Garage Door Repair Sumner are at your disposal.
3. Your garage door does not open or close at all
This is known as a barricade problem. An object placed in the path of your garage door will prevent it from opening or closing properly. To go further, even dirt can be the cause of obstruction. Hence, it is recommend to undertake some maintenance activities from time to time.